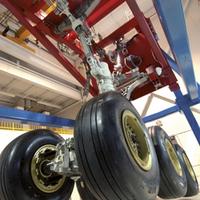 There is a saying in the aircraft industry, "takeoffs are optional, landings are mandatory". This holds so very true when one realizes that the weight of some aircrafts these days, for example the Boeing 747, is close to 1 million pounds! Landing gears are structural components designed to hold the weight of the aircraft and absorb its shock load during landing.
ASME Ontario Section is proud to present an exciting plant tour to Goodrich Oakville. Goodrich Oakville is a division of UTC Aerospace Systems-Landing Gear, a leading provider of integrated landing gear systems and flight controls for commercial and military applications.
They design, test, manufacture and provide after-market support towards landing gear systems and flight controls for a wide range of aircraft.  Its cliental span the globe and include the majority of the world's most leading aircraft manufacturers such as Airbus, Boeing and Bombardier, (the A380, the A350-1000 as well as Boeing's 737, 747, 767 and 777 families of aircraft, the CRJ700/900/1000 and Gulfstream's business jets).
Primary products include main, nose and wing landing gear assemblies, cockpit controls, electronic control units, braking systems, extension and retraction equipment and steering control systems.
Date:

Thursday, 11 September 2014

Time:

5:00 PM to 7:00 PM

Location:

UTC Aerospace Systems

1400 South Service Rd W

Oakville, ON L6L 5Y7

Registration:
Link
Cost:

$5.00 for 

ASME Member and their family

$10.00 for non-ASME Member
Note: The registration information is mandatory as Goodrich conducts a screening process for all attendees as prescribed under Canada's Controlled Goods program. Registration is closed on Sunday, August 17th at 11:59 PM.
Mandatory personal protection:
Safety Glasses shall be worn in all areas of the shop floor at all times. (will be provided)

Approved safety shoes with steel toes are required to be worn in all areas of the plant outside of the red aisles. Open toed shoes or shoes with straps are prohibited on the plant floor with no exceptions. (please provide your own safety shoes)

Hearing protection is strongly recommended on all areas of the shop floor.  (will be provided)
For more information or questions, please contact Hasan Akhter at hasanakhter@gmail.com
Hope to see you there!
ASME Ontario Executive