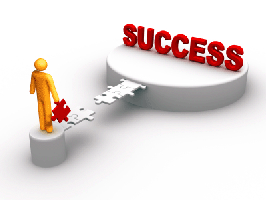 Has this ever happened to you? You've been instructed to list your career accomplishments, and you can't think of any. You know you have had accomplishments, but you just can't dredge them up.
Researchers suggest that what's unique about accomplished professionals is theability to leverage their skills and achievements towards their success. As Teddy Roosevelt once said "Do what you can, where you are, with what you have."
Join us for a workshop with well-known Donna Messer that will give you the knowhow, tools and techniques to leverage your success. This workshop provides you with the basic ways to use leverage to achieve success, personally and professionally. It is by using leverage, that you can lift an incredible load without any struggle. Whether you are looking for a job or a boost in your career, this is an excellent opportunity for you to learn and develop networking skills to stick out from the rest.
Date:

Saturday, 6 December 2014

Time:

11:00 AM to 1:00 PM

Location:

University of Toronto

Bahen Centre for Information Technology 

Room# BA 2145 

40 St George St

Toronto, ON M5S 2E4

Registration:
Link
Cost:

$15.00 for 

ASME Member and their family

$20.00 for non-ASME Member
Refreshments will be provided.
About Donna Messer:
"Speaker", "journalist", "author", "coach", "trainer", "advisor", "facilitator", "mentor" and "leader" are all words that describe Donna Messer to a tee.  Look closer, however, and you'll see that a common theme runs through them all – a love of people. For more than two decades, Donna has been a renowned expert on and promoter of the often overlooked, true currency of business – personal relationships – how to forge, nurture and leverage them to enable those who properly cultivate these relationships to put them to mutual benefit.
As President of ConnectUs Canada, Donna's contact network extends well into the tens of thousands – a network that she routinely and freely shares with her clients, associates and acquaintances via the extensive speaking engagements and workshops she holds around the world.
A dynamic, highly sought-after speaker, Donna has spoken throughout North America, the Caribbean, Mexico, Europe and Iceland on a host of topics dealing with the art of networking and the ties that bind.  She has spoken before Federal, Provincial, Municipal and State governments, even serving as an advisor to the Prime Minister's Office (PMO) on issues relating to women in business.
Among Donna Messer's several hundred clients are top tier financial institutions, boards of trade, major accounting and law firms, and leading universities and colleges across Canada.  Donna is also a frequent featured speaker at HAPPEN, Canada's largest executive networking organization.  
A sampling of her name clients include:   Bell Canada, Honeywell, Certified Management Accountants, Canadian General Accountants, RBC, TD Canada Trust, BMO, CIBC, Scotiabank, Schulich School of Business, Rotman School of Business, Ernst & Young, Industry Canada, HP (Hewlett Packard), IVY School of Business,. Canadian Plastics Association, Women in Food Industry Management, Cushman and Wakefield, Hospice Association of Canada, Laurier University, Markel Insurance, Trade Ortho Bio Tech, Women's Leadership Foundation – Calgary, CIRI Alberta, Manitoulin Workforce Partnership, Rogers Communications Inc., Big Brothers and Big Sisters Association, Junior Achievement World Conference, Petro Canada and Sun Life Assurance.
A noted author and journalist, Donna's more than 4,000 articles have graced the pages of newspapers and magazines including Enterprise Magazine, Small Business Canada Magazine, Career Options Magazine, Canadian Opportunities Magazine, Life and Fashion Magazine, Pets and Animals, Women with Vision Magazine, Company of Women Magazine, Timeless Woman.  Donna has interviewed various "movers and shakers" including Senator Pamela Wallin, former Liberal Cabinet Minister, Sheila Copps, as well as an exclusive interview with the Duchess of York, Sarah Ferguson.  Among her five books as a published author is Effective Networking Strategies, a Canadian bestseller written in 1993 well before "networking" became the de rigueur buzzword of the outplacement and executive search industries, selling over 50,000 copies over the past 15 years. 
Donna has directed and advised on numerous boards and committees and has won various awards including Woman of the Year - Women in Pursuit of Excellence WFIM, International Leader's Award – Women and Diversity, and the Award for Outstanding Achievement – CACEE.  She was also Ernst and Young's nominee for Entrepreneur of the Year.