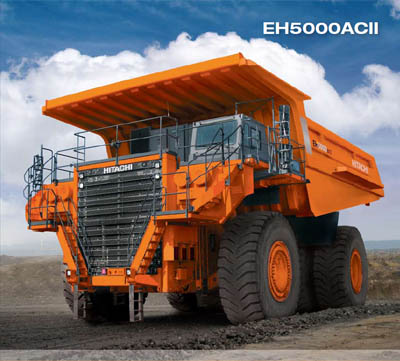 Hitachi Construction Machinery Co. produces world class products for the mining and construction industry. They have integrated their marketing operations in North, Central, and South America with Deere & Company in a move designed to streamline decision-making and improve customer support.

 

Hitachi Construction Truck Manufacturing, the manufacturer of trucks in Canada, has a plant located in Guelph, Ontario, where they produce rigid haul trucks with a load capacity in the 40- to 350-ton class. 

Here, they produce the biggest electrically-operated rigid dump truck EH5000ACII:



| | |
| --- | --- |
|  Length |  15m |
|  Width |  9m |
|  Height |  7.5m |
|  Tire Diameter |  3.3m |
|  Loading Capacity |  310t |
They also manufacture the rigid dump trucks EH1100-3 and EH1700, which is their product line.
Date:
Tuesday, April 12, 2011  
Time:
1:30pm-4:00pm
Location:
200 Woodlawn Road West,
Guelph, Ontario, N1H 1B6 
Registration:
Closed

Registration fee:
Free for members
$5 for non-members
(Tour will begin at 2:00pm)
Phone: 



(519) 823-2000
IMPORTANT NOTE:
Hitachi reserves the right to deny access to individuals working for competition and the attendee list is subject to Hitachi approval.