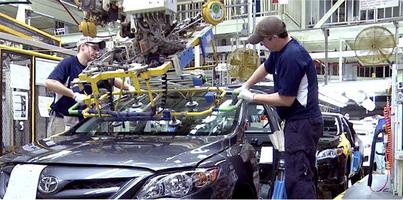 Ever wonder what goes on behind the scenes of assembling and testing brand new cars and SUVs prior to shipping and sales?  Ever think about the technical work, welding and robotics that goes behind a world class automotive body shop?  Well here's your chance to find out!
ASME Ontario Section is proud to present a "Toyota Motor Manufacturing Canada Inc. (TMMC) Plant Tour"!  On Thursday, November 7, 2013, we will go behind the scenes of this internationally-known, prestigious automotive assembly facility in Cambridge, Ontario and have a firsthand viewing of how a Toyota vehicle is put together.  So feel free to join us and invite family and friends as well for this amazing experience (Children must be 8+ years of age and accompanied by an adult).
Upon Arrival at TMMC, visitors are welcome to browse their state of the art Visitors' Centre which features products made at TMMC as well as interactive displays.  The tour program consists of a 10-minute video presentation about TMMC, its history and manufacturing methods.  Following the video presentation, visitors embark on a motorized tram tour through their Welding and/or Assembly shops.
Date:

Tuesday, 17 February 2015

Time:

1:15 PM to 3:00 PM

Location:

Toyota Motor Manufacturing Canada

1055 Fountain Street North

Cambridge, Ontario N3H 5K2

Registration:
Link
Cost:

Free for 

ASME Member and their family

Free for non-ASME Member
TMMC Tour Rules:
Only natural fibres may be worn in the plant (wool, cotton, silk, linen, etc.)

No Acrylic, Polyester, Rayon, Synthetic fibre (microfiber) clothing can be worn while on tour.

No shorts, skirts, tear-away pants, nylon pants or nylon tops.  Cotton smocks will be provided if necessary.

No hates or scarves can be worn while on tour.

No open sandals or high-heeled shoes.

No cameras, cell phones, pagers or other communication devices.

No MP3 or other music players or any time of personal headphone device can be worn during the visit.

No purses, bags, or knapsacks – these items will be stored under lock and key in the Visitor's Centre while one tour.

No food or drinks allowed during the tour.

Arms and legs must be kept inside the tram at all times.

Safety glasses must be worn at all times – these will be provided.

Each guest must wear an audio headset during the tour.

Children must be at least 8 years of age, and must be accompanied by an adult.

Visitors who are under the influence of alcohol or drugs are not allowed to enter the facility.

Smoking is not permitted on site.
For more information please visit www.tmmc.ca
For any further questions regarding this tour, please contact Mayurthen Suppiah at msuppiah@asme.org